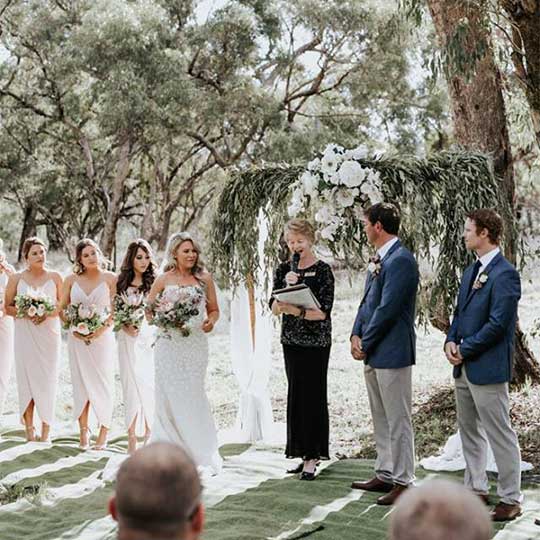 About Me
Choosing a Celebrant for your important and special occasion is a very personal decision. I am a vibrant, experienced and caring professional - having celebrated 100's of marriages. Most of all - I truly love what I do.

My aim is to ensure that your ceremony is magically unforgettable and tailored wholly to your requirements. I take the time to meet with you to listen and understand what you're wanting from your ceremony. I provide you with sample ceremonies, ideas for unique cultural inclusions, readings and fresh ideas.

It is important that your ceremony is exactly as you want it to be - and we work together to create your perfect ceremony. You are encouraged to include the vows, readings, bespoke (as well as traditional) inclusions and symbols that are meaningful to you - I can provide suggestions and ideas.

Please contact me for a no-obligation discussion about your ceremony planning.

Sue Curley
Services
Micro Weddings
Micro is the BIG trend! All the best bits distilled into the most intimate, elegant and personal ceremony.
Micro magic…
Special ceremonies for special people
I believe in authentic ceremonies filled with laughter and love – everything that celebrates your personality and relationship.
Weddings
Awesomely personal, written from scratch - marriage ceremonies that reflect your togetherness.
Equality Marriages
Hallelujah! We waited so so long for the law to be changed in Australia for ALL couples to have equal rights. I love performing these ceremonies.
Elopements
For when you want to keep it secret! You, me, two witnesses - and exquisite intimacy.
Registry-Style
For when you just want to get married! Quick - just the legal necessities – no fuss. Special discounts and conditions apply.
Baby Naming
Allow me celebrate that incredibly precious new addition to your family – lots of options and choice to include special family and friends.
Celebration of Life Funerals
I am able to help you craft a ceremony that is both authentically respectful and appreciative of the person who has passed.
Anything Else
If you can think of it… I'm up for it!
Coming of Age, Vow renewals, Separation and Divorce ceremonies, Memorials – I would love to work with you to create a special celebration.
Testimonials
Sue was a valuable addition to our special wedding, and so glad we opted to go with her! Sue was always available in the lead up to our wedding day (and thereafter), which kept us at ease. She is clearly also very familiar with all requirements, procedures and how to make a special day so very unique and personalised. Open to suggestions in both directions, we worked together with Sue to create the perfect ceremony - Thank you! Alana and Joel - Wellington Caves

Sue was amazing :). Sue helped us with lots of options and choices, and was always ready to answer queries. She supported us with an absolutely beautiful ceremony. There is not a thing we would have changed! It was a dream day that we will always remember. Andrea and Angus - October

Thank you Sue. We felt very comfortable with you all the time - from our first email, our meetings, and of course - during the ceremony! We could not have imagined a better celebrant. We hope to meet again: maybe in Switzerland?! Or next time we are in Australia. Thank you so much. Birgit & Philipp - Feb 2020

COVID safe

Sue is a wonderful celebrant. She was so accommodating and flexible with all aspects of the ceremony. She took the time to meet with us and run through a rehearsal, giving us pointers based on her previous experience! Sue genuinely loves what she does! Dan and Laura - family farm

Sue was just perfect for us! So supportive, uplifting and joyous throughout the planning, meetings, phone calls - and our special day. The inclusion of our (adult) children in our 'handfasting' ceremony was a real highlight - in a whole day of highlights! Dave & Libby - Jan 2020

Sue was absolutely amazing! She was kind and caring! Did everything with a big smile on her face! Any problems I had she was quick to fix and help. All around I couldn't recommend anyone better for your wedding! She is absolutely lovely! Thank you so very much for making our day so very magical and special. Even after the ceremony, Sue has helped with any questions I have had for her. Thank you again! From Mr and Mrs Johnson xo Edward and Emma - Jan 2020

Everyone commented on what a beautiful ceremony it was - Sue made it extra special. She gave us ideas on how to make it totally unique - and inclusive of our wonderful children and grandchildren. We are still floating on a high.... Fran and Bob - September 2020

What a fun and fabulous celebrant is Sue!! Right from the start - we knew it had to be you (and us too, of course)... Could not have imagined better. xx Gabby & Ryan - 2021

Sue - you were beautiful to deal with. Exchanging our vows was the best highlight! Thank you so much for your help, advice, rehearsal, EVERYTHING! A day we will never forget. Jack & Karina - Oct 2020

Thanks Sue. Our whole day was (raining!) perfect. Joe's highlight was watching Laura walk up the aisle, while Laura's highlight was signing the register and exchanging wedding rings. You made our day very easy and calm! Joe and Laura - Oct 2020

Thanks Sue - You made our marriage ceremony PERFECT! What an amazing day!! Saying our vows were the best highlight. You are amazing - and we thank you from the bottom of our hearts. Maddi & Justin W Maddi & Justin - March 2020

Sue is a really special celebrant. She made our day so much better than we imagined - no stress - kept the ceremony upbeat and personal. Set the scene for the party that followed! Keep up the great work. Mardie and Nathan - September @ Outback Cellars!

Great job! Sue made our ceremony really special - including lots of personal and unique parts. A day we will never forget (for all the best reasons)! Mel and Adam - September @ Zoo

Dear Sue, Thank you so much for our day. It was a wonderful day and we were so relaxed and everything just ran so smoothly. Thank you again for everything in the lead up to our wedding and the work you did for us on the big day. We couldn't have asked for a better celebrant.... Mr and Mrs Tink - July in Bourke!

Friendly, positive, enthusiastic and efficient are words I'd use to describe Sue. She recently married my husband and I and helped us create and deliver a highly personal and enjoyable ceremony. We had a few set backs at the beginning of the year due to Covid-19 but Sue was flexible, patient and supportive. Our guests also commented on the atmosphere Sue created at our ceremony with her bright and bubbly personality and genuine support for my husband and I. We cannot thank Sue enough and highly recommend her to anyone getting married. Mr & Mrs Crean - Sept 2020

Thanks Sue. You were very joyful and calm. The marriage service was exactly what we wanted. Thank you so very much for believing in us! Mr & Mrs J Mr & Mrs Jeffrey

Thank you for being the most amazing celebrant we could have hoped for Sue. You did an absolutely wonderful job!! 11/10 from us.... Mr & Mrs Toole xx Mr & Mrs Toole - April 2021

Thanks Sue - you were amazing! Thank you from the bottom of our hearts! So many people commented on how fun and fabulous you were. It really added so much to our day. Highlights were: how relaxed it all was, having our second kiss! and involving our parents throughout. We are so glad we found you. Mr & Mrs W. Mr & Mrs W - April 2021

Terrific celebrant. Nothing was ever a problem (and we had a few of those!). Did the best ceremony possible - with a big smile. Sue gives her very best, in a genuine way. Paul and Tess - August 2020

We had our wedding in March and Sue was absolutely fabulous to have on our team! Every meeting she was well prepared with lots of useful ideas and the whole process was easy and flawless. The marriage package she put together was really helpful to get ideas and examples of different speeches, vows and styles/themes. Sue was completely happy for us to make our ceremony about what we wanted to say, how long it was, and how it was going to flow (with lots of advice upon request from her as what she has found works best). Sue also thinks of everything - for example she stands to the side when you are saying your vows so they photographer can get shots of just you and your husband - something we wouldn't have thought about but clearly shows Sues experience. If you are looking for a celebrant we strongly recommend Sue - you won't be disappointed as she is a wonderful person to have involved on your joyful day. Rose & Rob. Rob and Rose

Hay Sue, sorry for not been in touch sooner. Life after wedding is just as crazy as before lol.I've tried to leave a review on your Facebook page but I couldn't. I also wanted to say thank you for everything you did on our special day and the after part of the ceremony was just bonkers with Rylans meltdown but you did an amazing job. If you could please tell me how to, I would love to leave a review. Sharmayne & Cameron - May 2021 Sharmayne & Cameron - May 2021

After watching Sue do numerous blessing ceremonies as well as wedding ceremonies, Jarrod and I knew she was the one for us! She was so easy to talk to and work things through with. She made the process easy and helped us understand all the legalities that came with getting married. We are so grateful to have had Sue be apart of our special day. Our ceremony was fun and to the point. Thank you Sue for all of your help and making our wedding ceremony absolutely perfect! Steph & Jarrod - May 2021

We are beyond happy with Sue! From start to finish she was fantastic, she is extremely organised, passionate and gave us so much guidance and advice! The day would not of been the same without Sue! Terri & Kurt - April 2021